Kia Sportage: Engine compartment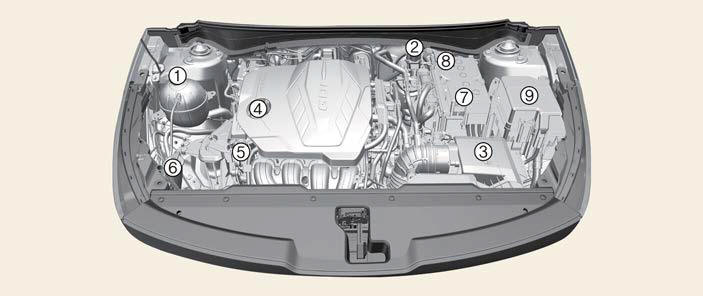 Smartstream G2.5 GDi
* The actual engine room in the vehicle may differ from the illustration.
Engine coolant reservoir
Brake fluid reservoir
Air cleaner
Engine oil filler cap
Engine oil dipstick
Windshield washer fluid reservoir
Fuse box
Negative battery terminal
Positive battery terminal
Maintenance services
You should exercise the utmost care to prevent damage to your vehicle and injury to yourself whenever performing any maintenance or inspection procedures.
Should you have any doubts concerning the inspection or servicing of your vehicle, have an authorized Kia dealer perform this work.
An authorized Kia dealer has factorytrained technicians and genuine Kia parts to service your vehicle properly.
For expert advice and quality service, see an authorized Kia dealer.
Inadequate, incomplete or insufficient servicing may result in operational problems with your vehicle that could lead to vehicle damage, an accident, or personal injury.
Owner's responsibility
NOTICE
Maintenance Service and Record Retention are the owner's responsibility.
You should retain documents that show proper maintenance has been performed on your vehicle in accordance with the scheduled maintenance service charts shown on the following pages.
You need this information to establish your compliance with the servicing and maintenance requirements of your vehicle warranties.
Detailed warranty information is provided in your Warranty & Consumer Information manual.
Repairs and adjustments required as a result of improper maintenance or a lack of required maintenance are not covered.
Have your vehicle maintained and repaired by an authorized Kia dealer.
Authorized Kia dealers meet Kia's high service quality standards and receive technical support from Kia in order to provide you with a high level of service satisfaction.
NOTICE
NHTSA Safety Corrosion Alert
The National Highway Traffic Safety Administration (NHTSA) has issued a general warning to all vehicle owners of all brands regarding the risks associated with vehicle underbody corrosion. From your initial purchase, take the following steps to prevent unsafe corrosion damage to your vehicle:
Wash the undercarriage of your vehicle regularly during the winter and whenever your vehicle has been exposed to such salts or chemicals.
Do a thorough washing of the undercarriage at the end of the winter.
Use professional service technicians or governmental inspection stations to annually inspect for corrosion.
Immediately seek an inspection of your vehicle if you become visually aware of corrosion flaking or scaling or if you become aware of a change in vehicle performance, such as soft or spongy brakes, fluids leaking, impairment of directional control, suspension noises or rattling metal straps.
NHTSA further advises that after a vehicle is 7 years old, it is essential that you take these indicated maintenance steps to ensure that you protect yourself from unsafe corrosion conditions.
Owner maintenance precautions
Improper or incomplete service may result in problems. This section gives instructions only for the maintenance items that are easy to perform.
As explained earlier in this section, several procedures can be done only by an authorized Kia dealer with special tools.
NOTICE
Improper owner maintenance during the warranty period may affect warranty coverage. For details, read the separate Warranty & Consumer Information manual provided with the vehicle. If you're unsure about any servicing or maintenance procedure, have it done by an authorized Kia dealer.
WARNING
Maintenance work
Do not wear jewelry or loose clothing while working under the hood of your vehicle with the engine running. These items can become entangled in moving parts, if you must run the engine while working under the hood, make certain that you remove all jewelry (especially rings, bracelets, watches, and necklaces) and all neckties, scarves, and similar loose clothing before getting near cooling fans.
WARNING
Touching metal parts
Do not touch metal parts (including strut bars) while the vehicle is operating or hot. Doing so could result in serious bodily injury. Turn the vehicle off and wait until the metal parts cool down to perform maintenance work on the vehicle.
READ NEXT:
The following lists are vehicle checks and inspections that should be performed by the owner or an authorized Kia dealer at the frequencies indicated to help ensure safe, dependable operation of your vehicle. Any adverse conditions should be
Scheduled maintenance service precaution Follow the Normal Maintenance Schedule if the vehicle is usually operated where none of the following conditions apply. If any of the following conditions apply, follow the Maintenance Under Severe Usage
Engine oil and filter The engine oil and filter should be changed at the intervals specified in the maintenance schedule. If the vehicle is being driven in severe conditions, more frequent oil and filter changes are required. Drive belts Insp
SEE MORE:
Component Location Start Stop Button (SSB) FOB key holder FOB key Tailgate switch Smart key unit RF receiver BCM (Body Control Module) Interior antenna 1 Interior antenna 2 Interior antenna
The wipers and washers remove foreign substances from the windshield and rear window, helping to maintain visibility. A: Wiper speed control MIST - Single wipe OFF - Off INT - Intermittent wipe AUTO* - Auto control wipe LO - Lo