Kia Sportage: Seat belt - Driver's 3-point system with emergency locking retractor
The following explains how to fasten and adjust the driver's seat belt.
Fastening the your seat belt:
WARNING
You should place the lap belt portion as low as possible and snugly across your hips. If the lap belt is located too high on your waist, it may increase the chance of injury in the event of a collision.
The arm closest to the seat belt buckle should be over the belt while the other arm should be under the belt as shown in the illustration. Never wear the seat belt under the arm closest to the door.
The seat belt automatically adjusts to the proper length only after the lap belt portion is adjusted manually so that it fits snugly around your hips. If you lean forward in a slow, easy motion, the belt will extend and let you move around. If there is a sudden stop or impact, however, the belt will lock into position. It will also lock if you try to lean forward too quickly.
NOTICE
If you are not able to pull out the seat belt from the retractor, firmly pull the belt out and release it. Then you will be able to pull the belt out smoothly.
Adjusting the height of shoulder belt
You can adjust the height of the shoulder belt anchor to one of the 4 positions for maximum comfort and safety.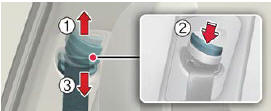 The height of the adjusting seat belt should not be too close to your neck.
The shoulder portion should be adjusted so that it lies across your chest and midway over your shoulder near the door and not your neck.
To adjust the height of the seat belt anchor, lower or raise the height adjuster into an appropriate position.
To raise the height adjuster, pull it up (1).
To lower it, push it down (3) while pressing the height adjuster button (2).
Release the button to lock the anchor into position. Try sliding the height adjuster to make sure that it has locked into position.
Improperly positioned seat belts can cause serious injuries in an accident.
WARNING
Shoulder belt positioning
Verify the shoulder belt anchor is locked into position at the appropriate height.
Never position the shoulder belt across your neck or face. Improperly positioned seat belts can cause serious injuries in an accident.
WARNING
Seat belt replacement
Replace your seat belts after being in an accident. Failure to replace seat belts after an accident could leave you with damaged seat belts that will not provide protection in the event of another collision.
READ NEXT:
The following explains how to fasten the passenger's and rear seat belts. Fastening your seat belt: Combination retractor type seat belts are installed in the rear seat positions to help accommodate the installation of Child Restraint Syste
Your vehicle is equipped with driver's and front passenger's pre-tensioner seat belts (retractor pre-tensioner and EFD (Emergency Fastening Device)). The pre-tensioner seat belts may be activated, when a frontal collision is severe e
Take the following precautions when using seat belts. Infant or small child All 50 states have child restraint laws. You should be aware of the specific requirements in your state. Child and/or infant seats must be properly placed and instal
SEE MORE:
If you have a flat tire (with tire mobility kit) (if equipped) For safe operation, carefully read and follow the instructions in this manual before use. Compressor Sealant bottle The Tire Mobility Kit is a temporary fix to the tire a
If you are considering towing with your vehicle, you should first check with your country's Department of Motor Vehicles to determine their legal requirements. Since laws vary the requirements for towing trailers, cars, or other types of