Kia Sportage: Auto defogging system
Auto defogging helps reduce the possibility of fogging up the inside of the windshield by automatically sensing the moisture on inside the windshield.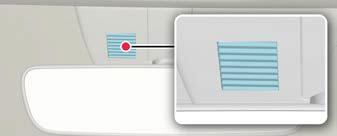 The auto defogging system operates when the heater or air conditioning is on.
When the Auto Defogging System operates, the indicator will illuminate.
If a high amount of humidity is detected in the vehicle, the Auto Defogging System will be enabled.
The following steps will be performed automatically:
The A/C button will turn ON.
The air intake control will change to Fresh mode under low outside temperature.
The mode will be changed to defrost to direct airflow to the windshield.
The fan speed will be increased.
To cancel or reset the Auto Defogging System Press the front windshield defroster button for 3 seconds when the ignition switch or ENGINE START/STOP button is in the ON position.
When the Auto Defogging System is canceled, defrost button indicator will blink 3 times.
When the Auto Defogging System is reset, defrost button indicator will blink 6 times without a signal.
NOTICE
When the air conditioning is turned on by Auto defogging system, if you try to turn off the air conditioning, the indicator will blink 3 times and the air conditioning will not be turned off.
To maintain the effectiveness and efficiency of the Auto Defogging System, do not select Recirculation mode while the system is operating.
When the Auto Defogging System is operating, the fan speed adjustment knob, the temperature adjustment knob, and the air intake control button are all disabled.
NOTICE
Do not remove the sensor cover located on the upper end of the driver side windshield glass.
Damage to system parts could occur and may not be covered by your vehicle warranty.
READ NEXT:
The vehicle is equipped with a defroster for removing frost or fog from the rear window. CAUTION Conductors To prevent damage to the conductors bonded to the inside surface of the rear window, never use sharp instruments or window cleaners co
To reduce the possibility of fogging up the inside of the windshield, the air intake or air conditioning is controlled automatically according to certain conditions such as or position. To cancel automatic defogging logic or return
Center console storage These compartments can be used to store small items required by the driver or passengers. To avoid possible theft, do not leave valuables in the storage compartment. Always keep the storage compartment covers clos
SEE MORE:
Components and Components Location Components Cooling fan assembly Radiator assembly Mounting insulator Radiator mounting bracket Radiator upper hose Radiator lower hose Reservoir tank Over flow hose ATF cooler hoses
Description and Operation Description Torque converter control solenoid valve (T/CON_VFS) is attached to the valve body. This variable force solenoid valve directly controls the hydraulic pressure inside the torque converter. Specificatio