Kia Sportage: Components and Components Location | Description and Operation
Components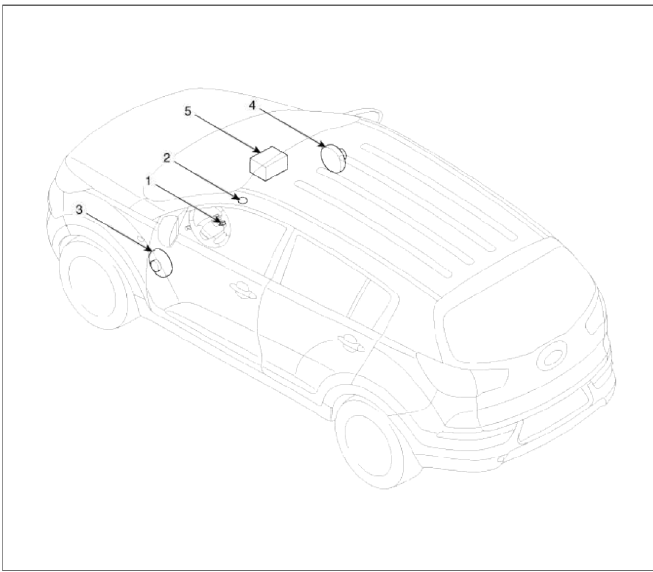 Hands free call switch
Mic
Front left speaker
Front right speaker
Audio head unit (hands free control)
There is no hands free jack. This system supports Ð'luetooth (wireless system).
Description and Operation
Function
Bluetooth Audio System
Bluetooth
You can use a Bluetooth device in your car to make a hands-free phone call or to stream music onto your in-car speakers (via tins Head Unit). This Head Unit supports HFP, A2DP and AVRCP connection.
Advanced Audio Distribution Profile (A2DP)
This profile defines how high quality audio (stereo or mono) can be streamed from one device to another over a Bluetooth connection. For example: music streamed from a mobile phone to a wireless headset or car audio.
Audio/Video Remote Control Profile (AVRCP)
This profile is designed to provide a standard interface to control TVs, Hi-fi equipment, etc. to allow a single remote control (or other device) to control all of the AV equipment to which a user has access. It may be used in concert with A2DP or VDP.
Hands-Free Profile (HFP)
This is commonly used to allow car hands-free kits to communicate with mobile phones in the car.
Notes for mobile phones
Some functions (e.g. starting of speech recognition) are not supported by all mobile phones. We cannot guarantee that all functions described will be supported by all mobile phones with Bluetooth.
New device
This function allows you to add a new phone to the Head Units Bluetooth Device List. Maximum of 5 devices can be added to the list. If the list is full, the oldest device will be replaced by the newly added Bluetooth device, based on last pairing date.
Voice Recognition Activation
The voice recognition engine contained in the Bluetooth System can be activated in the following conditions:

- Button Activation

The voice recognition system will be active when the button is pressed and after the sound of a Beep.

- Active Listening

The voice recognition system will be active for a period of time when the Voice Recognition system has asked for a customer response.

The system can recognize single digits from zero to nine while number greater than ten will not be recognized.
If the command is not recognized, the system will announce "Pardon" or No input voice signal from microphone.

(No response)

The system shall cancel voice recognition mode in following cases: When pressing the button and saying cancel following the beep. When not making a call and pressing the button. When voice recognition has failed 3 consecutive times.
At any time if you say "help", the system will announce what commands are available.
Menu tree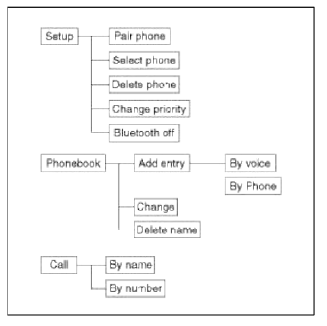 READ NEXT:
Components and Components Location Component Location [Audio + Cruise + Bluetooth] [Audio + Cruise + Bluetooth] Repair procedures Inspection 1. Check the handsfree remote control switch for resistance between No.3 and No.4 term
SEE MORE:
Description and Operation Description 1. The photo sensor is located at the right of defrost nozzle. 2. The photo sensor contains a photovoltaic (sensitive to sunlight) diode. The solar radiation received by its light receiving portion, generates
Components and Components Location Components Connector Pin Information Connector A (14 Pin) Ground 1 A_ACC A_IGN2 A_IGN1 VBAT_CPU VBAT_LOAD Ground 2 - O_Exterior buzzer O_ACC Relay O_IGN1 Relay O_IGN2 Relay O_S