Kia Sportage: Introduction
If you have a flat tire (with tire mobility kit) (if equipped)
For safe operation, carefully read and follow the instructions in this manual before use.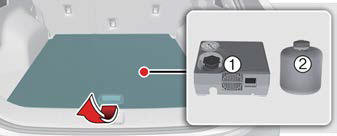 Compressor
Sealant bottle
The Tire Mobility Kit is a temporary fix to the tire and have your vehicle inspected by an authorized Kia dealer.
CAUTION
One sealant for one tire
When two or more tires are flat, do not use the tire mobility kit because the supported one sealant of Tire Mobility Kit is only used for one flat tire.
WARNING
Do not use the Tire Mobility Kit to repair punctures in the tire walls. This can result in an accident due to tire failure.
WARNING
Have your tire repaired as soon as possible.
The tire may loose air pressure at any time after inflating with the Tire Mobility Kit.
Introduction
With the Tire Mobility Kit you stay mobile even after experiencing a tire puncture.
The system of compressor and sealing compound effectively and comfortably seals most punctures in a passenger car tire caused by nails or similar objects and reinflates the tire.
After you ensured that the tire is properly sealed you can drive cautiously on the tire (distance up to 120 miles (200 km)) at a max. speed of 50 mph (80 km/ h) in order to reach a service station or tire dealer to have the tire replaced.
It is possible that some tires, especially with larger punctures or damage to the sidewall, cannot be sealed completely.
Air pressure loss in the tire may adversely affect tire performance.
For this reason, you should avoid abrupt steering or other driving maneuvers, especially if the vehicle is heavily loaded or if a trailer is in use.
The Tire Mobility Kit is not designed or intended as a permanent tire repair method and is to be used for one tire only. This instruction shows you step by step how to temporarily seal the puncture simply and reliably.
Read the section "Notes on the safe use of the Tire Mobility Kit"
WARNING
Do not use the TMK if a tire is severely damaged by driving run flat or with insufficient air pressure.
Only punctured areas located within the tread region of the tire can be sealed using the TMK.
READ NEXT:
Speed-restriction label Sealant bottle and label with speed restriction Filling hose from sealant bottle to wheel Connectors and cable for the power outlet direct connection Holder for the sealant bottle Compressor ON/OFF switch
CAUTION Detach the speed restriction label from the sealant bottle, and place it in a highly visible place inside the vehicle such as on the steering wheel to remind the driver not to drive too fast. Shake the sealant bottle. R
Immediately drive approximately 4 ~ 6 miles (7 ~ 10 km or, about 10min) to evenly distribute the sealant in the tire. CAUTION Do not exceed a speed of 50 mph (80 km/h). If possible, do not fall below a speed of 12 mph (20 km/h).
SEE MORE:
Roof front rail assembly Roof rear rail assembly Roof panel Roof center No.1 rail Roof center No.2 rail Roof center No.3 rail Roof panel (With sunroof) Roof front rail assembly Roof rear rail assembly Roof panel Sunroof
Protecting your vehicle from corrosion By using the most advanced design and construction practices to combat corrosion, we produce vehicles of the highest quality. However, this is only part of the job. To achieve the long-term corrosion resis