Kia Sportage: Forward Collision-Avoidance Assist (FCA) (Front Camera Only)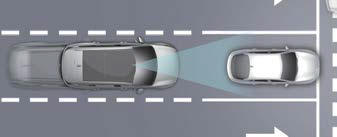 Forward Collision-Avoidance Assist is designed to help detect and monitor the vehicle ahead or help detect a pedestrian or cyclist in the roadway and warn the driver that a collision is imminent with a warning message and an audible warning, apply emergency braking.
Detecting sensor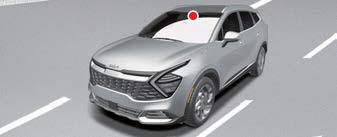 Front view camera
Refer to the picture above for the detailed location of the detecting sensor.
CAUTION
Never disassemble the detecting sensor or sensor assembly, or apply any impact on it.
If the detecting sensors have been replaced or repaired, have the vehicle inspected by an authorized Kia dealer.
Never install any accessories or stickers on the front windshield, or tint the front windshield.
Pay extreme caution to keep the front view camera dry.
Never place any reflective objects (i.e.

white paper, mirror) over the dashboard.
READ NEXT:
Forward Safety Driver Assistance Forward Safety Active Assist Warning Only Off With the vehicle on, select Settings? Driver Assistance ? Forward Safety from the User Settings menu or select Settings ?Vehicle ?Driver Assi
The basic function for Forward Collision- Avoidance Assist is warned and controlled by the following level. Collision Warning Emergency Braking Stopping vehicle and ending brake control Collision Warning Collision Warning Th
Forward Collision-Avoidance Assist malfunction Check Forward Safety system When Forward Collision-Avoidance Assist is not working properly, the warning message will appear, and the () and ( ) warning lights will appear on the cluster
SEE MORE:
Component Drive pinion nut Oil seal O-ring Oil seal Front bearing Spacer Rear bearing Inner shim Drive pinion gear Differential carrier Bearing cap Bearing cap bolt Plate baff
Safety features of your vehicle For the safety of the driver and vehicle passengers, you should become familiar with the vehicle's safety features. Important safety precautions You will find many safety precautions and recommendations thro