Kia Sportage: Inside rear view mirror
Mirrors
This vehicle is equipped with inside and outside rear view mirrors to provide views of objects behind the vehicle.
Inside rear view mirror
Adjust the rear view mirror so that the center view through the rear window is seen. Make this adjustment before you start driving.
Do not place objects in the rear seat or cargo area which would interfere with your vision out the rear window.
WARNING
Mirror adjustment
Do not adjust the rear view mirror while the vehicle is moving. This could result in loss of control.
NOTICE
Do not modify the inside mirror in any manner, including installing a wide mirror.
Doing so could result in injury during an accident or deployment of the air bag.
CAUTION
Cleaning mirror
When cleaning the mirror, use a paper towel or similar material dampened with glass cleaner. Do not spray glass cleaner directly on the mirror. It may cause the liquid cleaner to enter the mirror housing.
For Telematics button function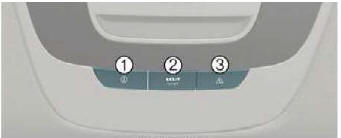 Virtual assist button
Kia Connect button
Roadside assist button
Day/night rear view mirror (if equipped)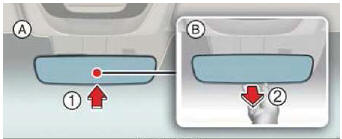 Day
Night
Make this adjustment before you start driving and while the day/night lever is in the day position (1).
Pull the day/night lever toward you (2) to reduce the glare f r om the headlamps of the vehicles behind you during night driving.
Remember that you lose some rear view clarity in the night position.
Electric chromic mirror (ECM) with HomeLink system (if equipped)
Electric Chromic Mirror (ECM) is that controls the glare f r om the headlamps of the vehicles behind you in nighttime or low light driving conditions.
The sensor mounted in the mirror senses the light level around the vehicle, and automatically controls the headlamp glare f r om the vehicles behind you.
When the engine is running, the glare is automatically controlled by the sensor mounted in the rear view mirror.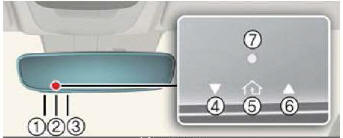 HomeLink Channel 1
HomeLink Channel 2
HomeLink Channel 3
Garage Door Opener Status Indicator: Closing or Closed
HomeLink Operation Indicator
Garage Door Opener Status Indicator: Opening or Opened
HomeLink User Interface Indicator
Your vehicle may be equipped with a Gentex Automatic-Dimming Mirror with an Integrated HomeLink Wireless Control System.
During nighttime driving, this feature will automatically detect and reduce rear view mirror glare. The HomeLink Universal Transceiver allows you to activate your garage door(s), electric gate, home lighting, etc.
READ NEXT:
The NVS Mirror automatically reduces glare by monitoring light levels in the front and the rear of the vehicle. Any objects that obstructs the light sensor will degrade the automatic dimming control feature. For more information regarding NVS
Operating HomeLink 1) Operating HomeLink Press and release the desired programmed HomeLink button (1, 2 or 3). NOTICE The HomeLink indicator (7) should light green, solid or flashing, and your programmed device should operate. I
Your vehicle is equipped with both left-hand and right-hand outside rear view mirrors. Be sure to adjust the mirror angles before driving. The mirrors can be adjusted remotely with the control levers or remote switch, depending on the type o
SEE MORE:
The driver can disable the power window switches on the rear passengers' doors by pressing the power window lock button to the lock position (pressed). When the power window lock button is pressed: The driver's master control ca
Your vehicle is equipped with a side air bag in each front seat. * The actual air bags in the vehicle may differ from the illustration. The purpose of the air bag is to provide the vehicle's driver and/or the front passenger with additi