Kia Sportage: Odometer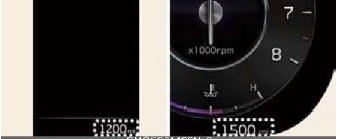 Type A / Type B
The odometer Indicates the total distance that the vehicle has been driven and should be used to determine when periodic maintenance should be performed.
Odometer range: 0 ~ 1,599,999 km or 999,999 miles.
Distance to empty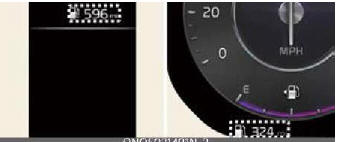 Type A / Type B
The distance to empty is the estimated distance the vehicle can be driven with the remaining fuel.
Distance range: 1 ~ 9,999 km or 1 ~ 9,999 mi.
If the estimated distance is below 1 mile (1 km), the trip computer will display "---" as distance to empty.
If the level of the remaining fuel is more than three-quarters, more than 0.8 gallons (3 liters) of fuel must be refilled for the fuel gauge to change.
In other cases, more than 1.6 gallons (6 liters) of fuel must be refilled for the vehicle to change the fuel gauge.
NOTICE
If the vehicle is not on level ground or the battery power has been interrupted, the distance to empty function may not operate correctly.
The distance to empty may differ from the actual driving distance as it is an estimate of the available driving distance.
The trip computer may not register additional fuel if less than 1.6 gallons (6 liters) of fuel are added to the vehicle.
The fuel economy and distance to empty may vary significantly based on driving conditions, driving habits, and condition of the vehicle.
Outside temperature gauge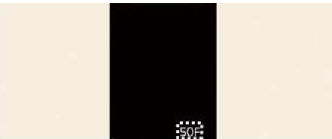 Type A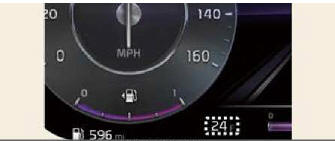 Type B
This gauge indicates the current outside air temperatures by 1 ºF (1 ºC).
Temperature range: - 40 ºF ~ 140 ºF (- 40 ºC ~ 6 0 ºC)
The outside temperature on the display may not change immediately like a general thermometer to prevent the driver from being inattentive.
To change the temperature unit (from ºC to ºF or from ºF to ºC) The temperature unit can be changed by using the "User Settings" mode of the LCD Display.
* For more details, refer to "User settings mode"
Transmission shift indicator
Transmission shift indicator displays gear information depending on your vehicle's transmission type.
Automatic transmission shift indicator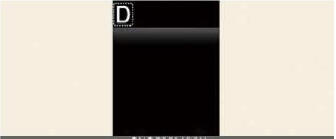 Type A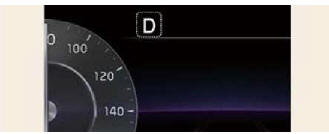 Type B
This indicator displays which automatic transmission gear is selected.
Park: P
Reverse: R
Neutral: N
Drive: D
Manual shift mode
READ NEXT:
The LCD display modes can be changed with the control buttons. LCD Display Control MODE button for changing modes MOVE switch for changing items OK: SELECT/RESET button for setting or resetting the selected item LCD dis
Drive info Accumulated trip distance Average fuel efficiency Total driving time The trip computer mode displays information related to vehicle driving parameters including fuel economy, tripmeter information and timer. * For m
SEE MORE:
The Anti-lock Brake System (ABS) prevents the wheels from locking. So the vehicle remains stable and can still be steered. ABS (or ESC) will not prevent accidents due to improper or dangerous driving maneuvers. Even though vehicle control is
Description and Operation Description Knocking is a phenomenon characterized by undesirable vibration and noise and can cause engine damage. Knock Sensor (KS) is installed on the cylinder block and senses engine knocking. When knocking occu