Kia Sportage: Operating high beam
Operating high beam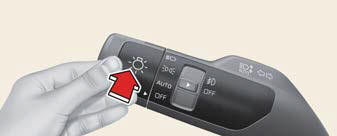 To turn on the high beam headlamp:
Push the lever away from you.

The lever will return to its original position.

The high beam indicator will light when the headlamp high beams are switched on.
WARNING
High beams
Do not use high beam when there are other vehicles in front of or approaching your vehicle. Using high beam could obstruct the other driver's vision.
To flash the headlamps:
Pull the lever towards you.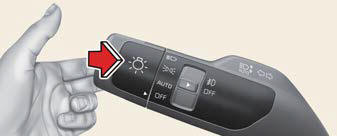 It will return to the normal (low beam) position when released. The headlamp switch does not need to be on to use this flashing feature.
Operating turn signals and lane change signals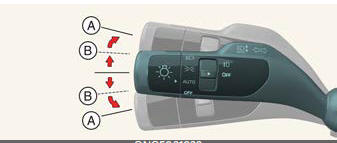 The ENGINE START/STOP button must be on for the turn signals to function.
To turn on the turn signals:
Move the lever up or down (A).

The green arrow indicators on the instrument panel indicate which turn signal is operating.

They will self-cancel after a turn is completed. If the indicator continues to flash after a turn, manually return the lever to the OFF position.
To signal a lane change:
If an indicator stays on and does not flash or if it flashes abnormally, one of the turn signal bulbs may be burned out and will require replacement.
One-touch lane change function
To activate a one-touch lane change function, move the turn signal lever slightly and then release it. The lane change signals will blink 3, 5 or 7 times.
You can activate or deactivate the One Touch Turn Signal function or choose the number of blinking (3, 5, or 7) by selecting "Vehicle ?Lights ? One Touch Turn Signal".
NOTICE
If an indicator flash is abnormally quick or slow, a bulb may be burned out or have a poor electrical connection in the circuit. The bulb may require replacement.
READ NEXT:
Operating front fog light (if equipped) Fog lights are designed to provide improved visibility when visibility is poor due to fog, rain or snow, etc. The fog lights will turn on when the fog light switch (1) is turned to the on position aft
A: Vehicle Settings Lights High Beam Assist With the ENGINE START/STOP button in the ON position, select 'Lights ? High Beam Assist' from the Settings menu to turn on High Beam Assist and deselect to turn off the function
Malfunction A: Check High Beam Assist (HBA) system When High Beam Assist is not working properly, the 'Check High Beam Assist (HBA) system' warning message will appear and warning light () will appear on the cluster. Have the functi
SEE MORE:
WARNING Fire Do not park, idle or drive the vehicle over or near flammable objects, such as grass, vegetation, paper, leaves, etc. A hot exhaust system can ignite flammable items under your vehicle. Also, do not remove the heat sink
Repair procedures Inspection Front Power Window Motor 1. Remove (-) negative battery terminal. 2. Remove the front door trim. (Refer to the BD group - "Front door") 3. Disconnect the connector from the motor. (A : Safety, Ð&rsq