Kia Sportage: Power outlet
The power outlet is designed to provide power for mobile telephones or other devices designed to operate with vehicle electrical systems or other devices that are compatible with the power outlet and vehicle electrical system.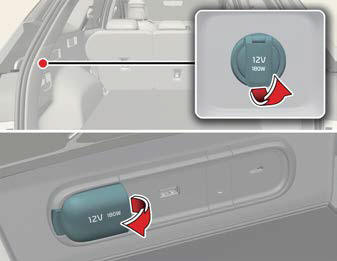 The devices should draw less than 15 amps with the vehicle on.
NOTICE
Use the power outlet only when the vehicle is on and remove the accessory plug after use. Using the accessory plug for prolonged periods of time with the vehicle off could cause the battery to discharge.
Only use 12 V electric accessories which are less than 15 A in electric capacity.
Adjust the air-conditioner or heater to the lowest operating level when using the power outlet.
Close the cover when not in use.
Some electronic devices can cause electronic interference when plugged into a vehicle's power outlet. These devices may cause excessive audio static and malfunctions in other electronic systems or devices used in your vehicle.
Push the plug in as far as it will go. If good contact is not made, the plug may overheat and the fuse may open.
Plug in battery equipped electronic devices with reverse current protection.

The current from the battery may flow into the vehicle's electrical/elec- tronic system and cause system malfunction.
WARNING
Electric shock
Do not put a finger or a foreign object (pen, etc.) into a power outlet and do not touch with a wet hand. You may get an electric shock.
READ NEXT:
A wireless smart phone charging system is located in front of the center console. Indicator Charging pad Firmly close all doors, and make sure to turn ON the ignition switch or press the ENGINE START/STOP button. To start wireless ch
A Coat hook is next to the rear grab handle. * This actual feature may differ from the illustration. CAUTION Hanging clothing Do not hang heavy clothes, since they may damage the hook. WARNING Do not hang other objects such as hangers or
To keep items from shifting in the cargo area, you can use the 4 holders located in the cargo area to attach the luggage net (if equipped), or you can fold the luggage net into half and attach it upwards by using the additional 2 holders locate
SEE MORE:
If you have a flat tire (with tire mobility kit) (if equipped) For safe operation, carefully read and follow the instructions in this manual before use. Compressor Sealant bottle The Tire Mobility Kit is a temporary fix to the tire a
CAUTION If a large amount of unburned gasoline flows into the converter, it may overheat and create a fire hazard. To prevent this observe the following precautions and explain them to your customer. 1. Use only unleaded gasoline. 2. Do not