Kia Sportage: Tires and wheels
For proper maintenance, safety, and maximum fuel economy, you must always maintain the recommended tire pressures and stay within the load limits and weight distribution recommended for your vehicle.
Recommended cold tire inflation pressures
All tire pressures should be checked when the tires are cold. "Cold Tires" means the vehicle has not been driven for at least three hours or driven less than 1 mile (1.6 km).
Recommended pressures must be maintained for the best ride, vehicle handling, and minimum tire wear.
For recommended pressure, refer to "Tires and wheels"
All specifications (sizes and pressures) can be found on a label attached to the driver's side center pillar.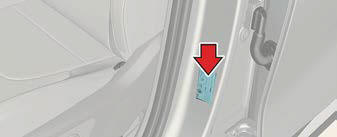 WARNING
Tire underinflation
Inflate your tires consistent with the instructions provided in this manual.
Regularly check the tire inflation pressure, and correct it as needed; at least twice a month and before any long trips on the road. If you fail to observe this precaution, you may be driving on underinflated tires, which may not only compromise your vehicle's driving stability, but may also lead to tire damage and the risk of an accident. This risk is much higher on hot days and when driving for long periods at high speeds.
Failure to maintain specified pressure may result in excessive wear, poor handling, reduced fuel economy, deformation of tire and/or wheel, harsh ride conditions, possibility for additional damage from road hazards, or result in tire failure.
Tire pressure
Always observe the following:
Check tire pressure when the tires are cold. (After vehicle has been parked for at least three hours or hasn't been driven more than 1 mile (1.6 km) since startup.)
Check the pressure of your spare tire each time you check the pressure of other tires. (if equipped)
Never overload your vehicle. Be careful not to overload a vehicle luggage rack if your vehicle is equipped with one.
Warm tires normally exceed recommended cold tire pressures by 4 ~ 6 psi (28 ~ 41 kPa). Do not release air from warm tires to adjust the pressure or the tires will be underinflated.
WARNING
Tire Inflation
Overinflation or underinflation can reduce tire life, adversely affect vehicle handling, and lead to sudden tire failure. This could result in loss of vehicle control and potential injury.
READ NEXT:
Check your tires once a month or more. Use a good quality gauge to check tire pressure. You cannot tell if your tires are properly inflated simply by looking at them. Radial tires may look properly inflated even when they're underinflate
The wheels on your vehicle were aligned and balanced carefully at the factory to give you the longest tire life and best overall performance. If you notice unusual tire wear or your vehicle pulling one way or the other, the alignment may need
This information identifies and describes the fundamental characteristics of the tire and also provides the Tire Identification Number (TIN) for safety standard certification. The TIN can be used to identify the tire in case of a recall.
SEE MORE:
Immediately drive approximately 4 ~ 6 miles (7 ~ 10 km or, about 10min) to evenly distribute the sealant in the tire. CAUTION Do not exceed a speed of 50 mph (80 km/h). If possible, do not fall below a speed of 12 mph (20 km/h).
Specifications Specifications VFS: Variable Force Solenoid Sensors Input Speed Sensor Type: Hall effect sensor Specifications Output Speed Sensor Type: Hall effect sensor Specifications Oil Temperatur