Kia Sportage: Brake Line
Components and Components Location
Components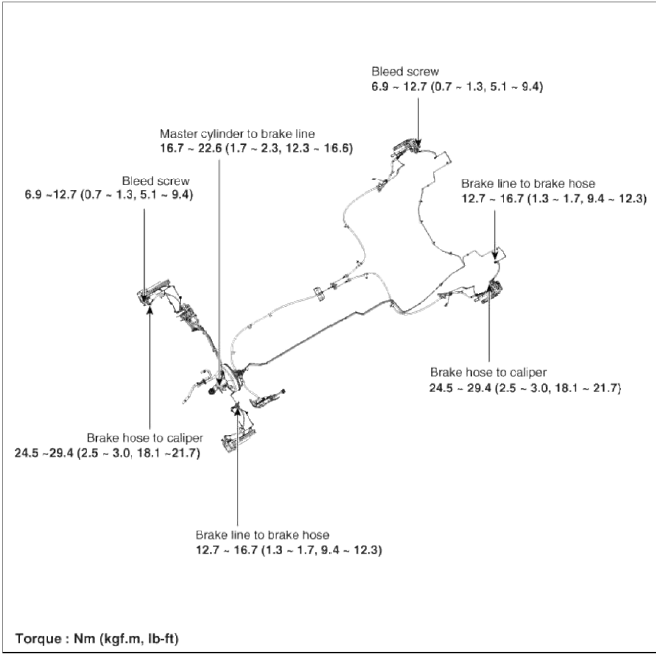 Repair procedures
Removal
1. Disconnect the brake fluid level switch connector, and remove the reservoir cap.
2. Remove the brake fluid from the master cylinder reservoir with a syringe.
CAUTION
Do not spill brake fluid on the vehicle, it may damage the paint; if brake fluid does contact the paint, wash it off immediately with water.
3. Remove the wheel & tire.
4. Remove the brake hose clip (A).
Front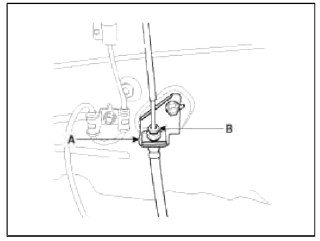 Rear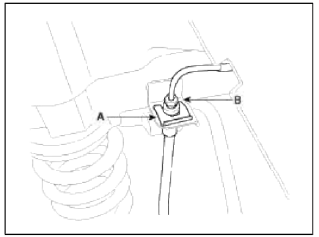 5. Disconnect the brake tube by loosening the tube flare nut (B).
Tightening torque: 12.7 ~ 16.7 N.m (1.3 ~ 1.7 kgf.m, 9.4 ~ 12.3 lb-ft)
6. Disconnect the brake hose from the brake caliper by loosening the bolt (C).
Tightening torque: 24.5 ~ 29.4 N.m (2.5 ~ 3.0 kgf.m, 18.1 ~ 21.7 lb-ft)
Front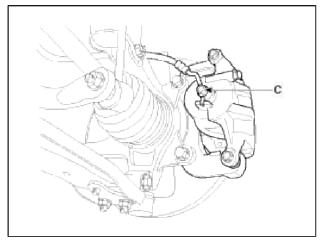 Rear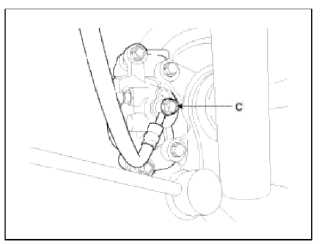 Inspection
1. Check the brake tubes for cracks, crimps and corrosion.
2. Check the brake hoses for cracks, damage and fluid leakage.
3. Check the brake tube flare nuts for damage and fluid leakage.
4. Check brake hose mounting bracket for crack or deformation.
Installation
1. Installation is the reverse of removal.
CAUTION
Use a new washer (A) whenever installing.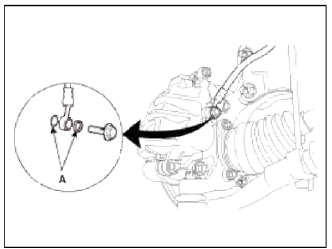 2. After installation, bleed the brake system. (Refer to Brake system bleeding)
3. Check the spilled brake oil.
READ NEXT:
Components and Components Location Components Cowl bracket Brake pedal member assembly Stop lamp switch Return spring Brake pedal stopper Clevis pin Snap pin Brake pedal Repair procedures Removal 1. Remove the crash pa
Components and Components Location Components Guide rod bolt Bleed screw Caliper bracket Caliper body Inner pad shim Brake pad Pad retainer Repair procedures Removal 1. Remove the front wheel & tire. Tightening torq
Components and Components Location Components Guide rod bolt Bleed screw Caliper bracket Caliper body Inner pad shim Brake pad Pad retainer Repair procedures Removal 1. Remove the rear wheel & tire. Tightening torqu
SEE MORE:
Speed-restriction label Sealant bottle and label with speed restriction Filling hose from sealant bottle to wheel Connectors and cable for the power outlet direct connection Holder for the sealant bottle Compressor ON/OFF switch
If you are considering towing with your vehicle, you should first check with your country's Department of Motor Vehicles to determine their legal requirements. Since laws vary the requirements for towing trailers, cars, or other types of