Kia Sportage: Climate control air filter
The climate control air filter installed behind the glove box filters the dust or other pollutants that come into the vehicle from the outside through the heating and air conditioning system.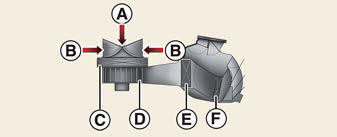 Outside air
Recirculated air
Climate control air filter
Blower
Evaporator core
Heater core
If dust or other pollutants accumulate in the filter over a period of time, the air flow from the air vents may decrease.
This leads to moisture accumulating on the inside of the windshield even when the outside (fresh) air position is selected. If this happens, have the climate control air filter replaced by an authorized Kia dealer.
NOTICE
Replace the filter according to the Maintenance Schedule. If the vehicle is being driven in severe conditions such as dusty or rough roads, more frequent air conditioner filter inspections and changes are required.
When the air flow rate suddenly decreases, have the system checked by an authorized Kia dealer.
Air conditioning refrigerant label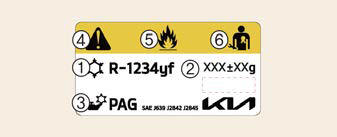 * The actual air conditioning refrigerant label in the vehicle may differ from the illustration.
Each symbol and specification on the air conditioning refrigerant label is represented below:
Classification of refrigerant
Amount of refrigerant
Classification of Compressor lubricant
Caution
Flammable Refrigerant
Registered technician to service Air Conditioning system
You can find out which air conditioning refrigerant is applied your vehicle at the label inside of the engine compartment.
Refer to "Refrigerant label" for more detail on the location of air conditioning refrigerant label.
READ NEXT:
When the amount of refrigerant is low, the performance of the air conditioning is reduced. Overfilling also has a negative impact on the air conditioning system. Therefore, if abnormal operation is found, have the system inspected by an autho
The manual climate control system uses cooling and heating to help maintain a pleasant environment inside the vehicle. Fan speed control knob Front windshield defroster button Rear window defroster button Air conditioning (A/C) button
Start the engine. Set the mode to the desired position. For improving the effectiveness of heating and cooling; Heating: Cooling: Set the temperature control to the desired position. Set the air intake control to the outs
SEE MORE:
Components and Components Location Component Location Cap Nut Wiper arm & blade Clip Cowl top cover Bolt Wiper motor & linkage assembly Wiper motor connector Repair procedures Removal 1
The smart key uses a 3 volt lithium battery which will normally last for several years. If you are unsure how to use or replace the battery, contact an authorized Kia dealer. Detach mechanical key from your smart key. Pry open the key