Kia Sportage: Manual climate control system
The manual climate control system uses cooling and heating to help maintain a pleasant environment inside the vehicle.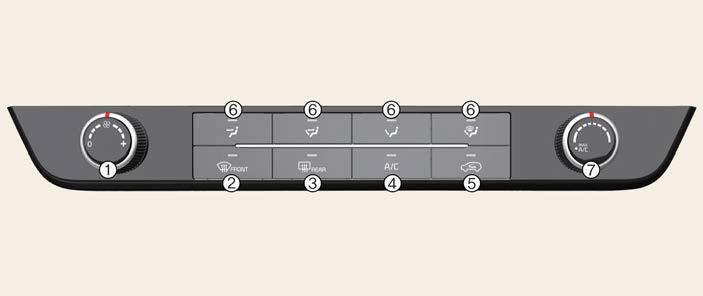 Fan speed control knob
Front windshield defroster button
Rear window defroster button
Air conditioning (A/C) button
Air intake control button
Mode selection button
Temperature control knob
CAUTION
Operating the blower when the ignition switch is in the ON position could cause the battery to discharge. Operate the blower when the engine is running.
READ NEXT:
Start the engine. Set the mode to the desired position. For improving the effectiveness of heating and cooling; Heating: Cooling: Set the temperature control to the desired position. Set the air intake control to the outs
The temperature control knob allows you to control the temperature of the air flowing from the ventilation system. To change the air temperature in the passenger compartment, turn the knob to the right for warm and hot air or to the left fo
The automatic climate control system uses cooling and heating to help maintain a pleasant environment inside the vehicle. Type A (button) Type B (control panel) Driver's temperature control knob Passenger's temperature cont
SEE MORE:
Component Location Panoramaroof Panoramaroof switch Panoramaroof motor & controller Components Panoramaroof frame assembly Panoramaroof impact cross member assembly
The warning light and indicator light indicate a situation where the driver should be careful and whether the various functions are activated. Warning lights The warning light indicates situations that require the driver to pay attention NOTI