Kia Sportage: Condenser | Receiver-Drier
Components and Components Location
Component Location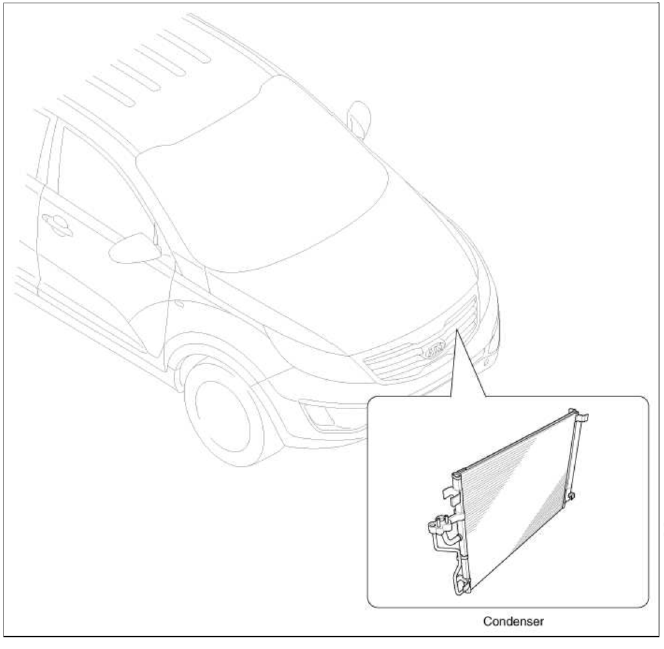 Repair procedures
Inspection
1. Check the condenser fins for clogging and damage. If clogged, clean them with water, and blow them with compressed air. If bent, gently bend them using a screwdriver or pliers.
2. Check the condenser connections for leakage, and repair or replace it, if required.
Replacement
1. Recover the refrigerant with a recovery/ recycling/ charging station.
2. Disconnect the negative (-) battery terminal.
3. Remove the front bumper upper cover (A).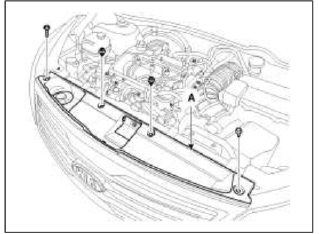 4. Remove the discharge line and liquid line (A) from the condenser.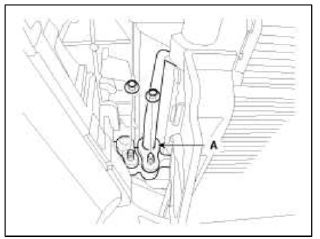 5. Remove the intercooler cover (A).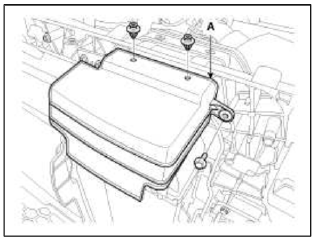 6. Remove the condenser side cover (A).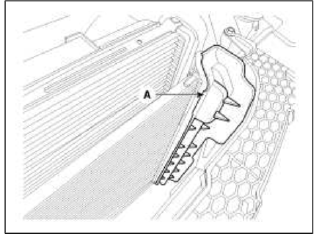 7. Remove the condenser (A) from radiator.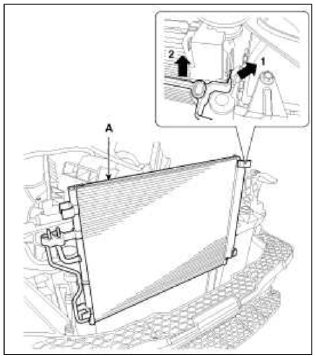 8. Install in the reverse order of removal, and note these items:
If you're installing a new condenser, add refrigerant oil ND-OIL8.
Replace the O-rings with new ones at each fitting, and apply a thin coat of refrigerant oil before installing them.

Be sure to use the right О-rings for R-134a to avoid leakage.

Be careful not to damage the radiator and condenser fins when installing the condenser.
Be sure to install the lower mount cushions of condenser securely into the holes.
Charge the system, and test its performance.
Receiver-Drier
Repair procedures
Replacement
1. Remove the condenser, and then remove the bottom cap (B) with L wrench (A) from the condenser.
Tightening torque: 20~25N.m (2.0~2.5kgf.m, 14.5~18.2lb-ft)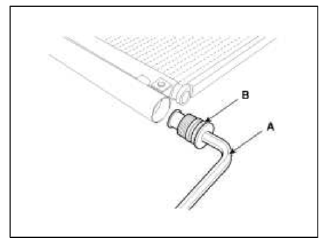 2. Remove the desiccant (A) from condenser using a long nose plier. Check for crumbled desiccant and clogged bottom cap filter.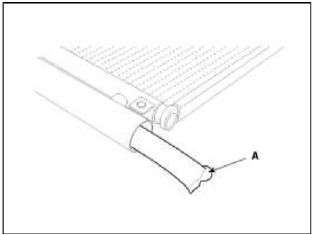 3. Apply air conditioning compressor oil along the O-rings and threads of the new bottom cap.
4. Insert the new desiccant into the receiver drier tank. The desiccant must be sealed in vacuum before it is exposed to air for use.
5. Install the new bottom cap to the condenser.
NOTE
Always replace the desiccant and bottom cap at the same time.
Replace the О-rings with new ones at each fitting, and apply a thin coat of refrigerant oil before installing them. Be sure to use the right О-rings for R-134a to avoid leakage.
Be careful not to damage the radiator and condenser tins when installing the condenser.
Be sure to install the lower mount cushions of condenser securely into the holes.
Charge the system, and test its performance
READ NEXT:
Components and Components Location Component Location Description and Operation Description А/С pressure transducer convert the pressure value of high pressure line into voltage value after it is measured. By voltage value, the e
SEE MORE:
The NVS Mirror automatically reduces glare by monitoring light levels in the front and the rear of the vehicle. Any objects that obstructs the light sensor will degrade the automatic dimming control feature. For more information regarding NVS
Your vehicle has a maintenance-free, calcium-based battery. If the battery becomes discharged in a short time (because, for example, the headlamps or interior lights were left on while the vehicle was not in use), recharge it by slow cha