Kia Sportage: Power window lock button
The driver can disable the power window switches on the rear passengers' doors by pressing the power window lock button to the lock position (pressed).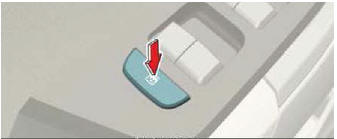 When the power window lock button is pressed:
The driver's master control can operate all passengers' power windows.
The front passenger's control can operate the front passenger's power window.
The rear passengers' control cannot operate the rear passenger's power window.
CAUTION
To prevent possible damage to the power window system, do not open or close two windows or more at the same time. This will also ensure the longevity of the fuse.
Never try to operate the main switch on the driver's door and the individual door window switch in opposite directions at the same time. If this is done, the window will stop and cannot be opened or closed.
WARNING
Windows
NEVER leave the keys in your vehicle with unsupervised children, when the engine is running.
NEVER leave any child unattended in the vehicle. Even very young children may inadvertently cause the vehicle to move, entangle themselves in the windows, or otherwise injure themselves or others.
Always double check to make sure all arms, hands, head and other obstructions are safely out of the way before closing a window.
Do not allow children play with the power windows. Keep the driver's door power window lock button in the LOCK position (pressed). SERIOUS INJURY can result from unintentional window operation by the child.
Do not extend heads or any limbs outside the window while the vehicle is in motion.
Remote window opening (if equipped)

If Auto window down function (safety window function) is equipped, you can still control the corresponding windows movement with engine turned off.
Press the Door Unlock button (1) for more than 3 seconds. The window moves down after the doors are unlocked, as long as you press the door unlock button (1). The window movement stops, when you release the door unlock button (1).
* Remote window opening requires the automatic power window down for all seats to be applied.
WARNING
If you stay on the function after operating the Remote window opening function, it is likely to cause a theft. In addition, please use caution there might be a malfunction due to the inflow of water while raining.
CAUTION
The remote window opening function may abruptly stop, when you move away from your vehicle during operation.

Stay in close proximity from your vehicle, while monitoring the window movement.

One of the windows may stop operating, when the window is interrupted by certain force. However, the other windows will keep operating. Thus, you should make sure that all windows are opened.
Be careful when using the remote window opening function, as the doors will be unlocked.
READ NEXT:
The hood serves as a cover for the engine compartment. Open the hood if maintenance work needs to be performed in the engine compartment or if you need to look at the compartment. Opening the hood Pull the release lever to unlatch the h
The hood warning message will appear on the LCD display when hood is open. The warning chime will operate when the vehicle is being driven at or above 2 mph (3 km/h) with the hood open. Closing the hood Before closing the hood, check
SEE MORE:
Use the information in the following sections to keep the exterior and interior of your vehicle clean. Exterior care Use the information in the following sections to maintain the exterior of your vehicle. Keeping the exterior clean is not only
* The actual air bags in the vehicle may differ from the illustration. Driver's front air bag Passenger's front air bag Side air bag Curtain air bag Even in vehicles with air bags, you and your passengers must always wear the