Kia Sportage: Transaxle Oil Temperature Sensor
Description and Operation
Description
Transaxle oil temperature sensor monitors the automatic transaxle fluid's temperature and conveys the readings to TCM. It is an NTC (Negative Thermal Coefficient) sensor whose resistance has an inversely proportional relationship with the temperature level. Data produced by this sensor is used to identify damper clutch activation and deactivation zones within the low temperature and high temperature range and to compensate hydraulic pressure levels during gear changes.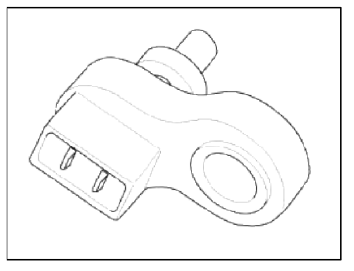 Specifications
Specifications
Type: Negative Thermal Coefficient Type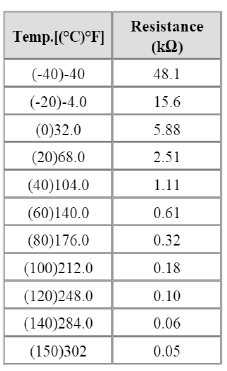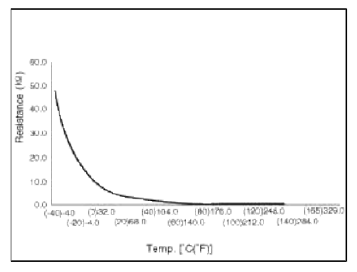 Schematic Diagrams
Circuit Diagram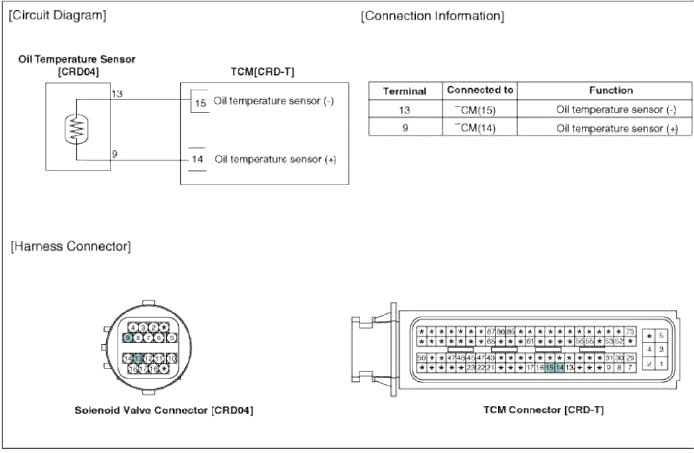 Repair procedures
Inspection
1. Turn ignition switch OFF.
2. Disconnect the oil temperature sensor connector.
3. Measure resistance between sensor signal terminal and sensor ground terminal.
4. Check that the resistance is within the specification
Removal
1. Remove the battery and the battery tray. (Refer to "Charging system" in EE group.)
2. Remove the under cover (A).
Tightening torque: 19.6 ~ 24.5 N.m (2.0 ~ 2.5 kgf.m, 14.5 ~ 18.1 lb-ft)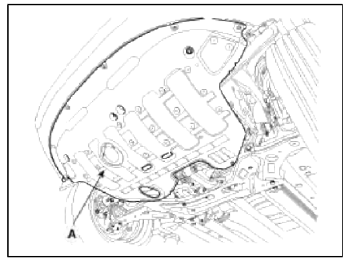 3. Replace new gasket and the ping after draining the automatic transaxle fluid by removing the drain ping. (Refer to "Hydraulic system (Fluid)" in this group)
4. Remove the valve body cover (A) and eyebolt (B).
Tightening torque:
(A) 13.8 ~ 14.7 N.m (1.3 ~ 1.5 kgf.m, 9.4 ~ 10.8 lb-ft)
(B) 34.3 ~ 44.1 N.m (3.5 ~ 4.5 kgf.m, 25.3 ~ 32.6 lb-ft
CAUTION
Always replace the gasket of the eyebolt use new one whenever loosening eyebolt.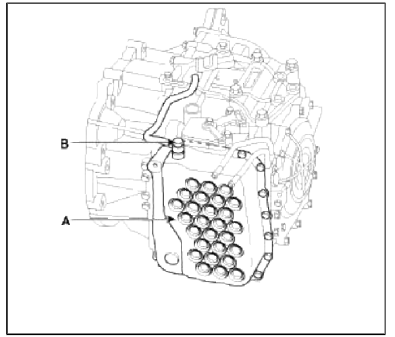 5. Disconnect the oil temperature sensor connector (A).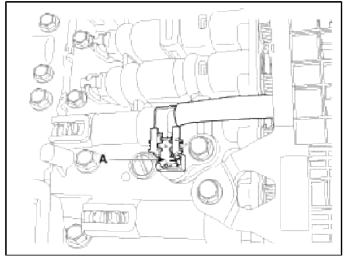 6. Remove the oil temperature sensor (A) after removing a bolt.
Tightening torque: 9.8 ~ 11.8 N.m (1.0 ~ 1.2 kgf.m, 7.2 ~ 8.7 lb-ft)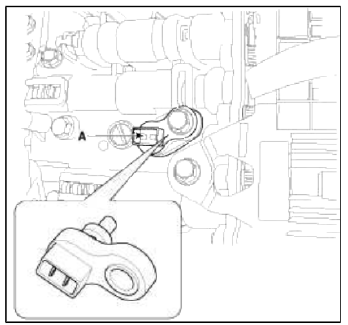 Installation
1. Installation is the reverse of removal.
NOTE
After replacement or reinstallation procedure of the valve body assembly, must perform procedures below.
Continue to apply liquid gasket at application points at the valve body cover with Ø2.5mm (0.0984in.) thickness.
Liquid gasket Part name : Threebond 1281B or LOCTITE FMD-546
Adding automatic transaxle fluid. (Refer to "Hydraulic system (Fluid)" in this group)
READ NEXT:
Description and Operation Description Input speed sensor is a vital unit that measures the rate of rotation of the input shaft inside the transaxle and delivers the readings to the TCM. The sensor provides critical input data that's us
Description and Operation Description The output speed sensor is a vital unit that measures the rate of rotation of the transaxle's turbine shaft and output shaft, and delivers the readings to the TCM. The sensor provides critical inpu
Description and Operation Description Torque converter control solenoid valve (T/CON_VFS) is attached to the valve body. This variable force solenoid valve directly controls the hydraulic pressure inside the torque converter. Specificatio
SEE MORE:
When inflated, the air bags make a loud noise and leave smoke and powder in the air inside the vehicle. This is normal and is a result of the ignition of the air bag inflator. After the air bag inflates, you may feel substantial discomfort in b
When the vehicle will not start because of low battery power, you may need to jump start the vehicle. Jump-starting Connect cables in numerical order and disconnect in reverse order. Jump-starting can be dangerous if done incorrectly. Ther