Kia Sportage: Rear Washer Switch | Rear Washer Motor
Repair procedures
Inspection
Check for continuity between the terminals while operating the wiper and washer switch. If it is not normal condition, replace wiper and washer switch.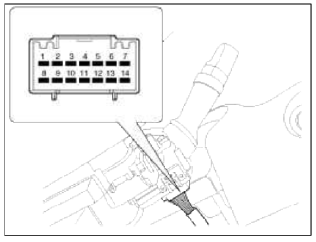 Rear Wiper Switch

Rear Washer Switch

Rear Washer Motor
Repair procedures
Inspection
1. With the washer motor connected to the reservoir tank, fill the reservoir tank with water.
NOTE
Before filling the reservoir tank with water, check the filter for foreign material or contamination. If necessary, clean the filter.
2. Remove the front bumper cover.
(Refer to the BD group - "Front bumper")
3. Connect positive (+) and negative (-) battery cables to terminals 2 and 1 respectively to see that the washer motor runs and water is pumped.
4. Check that the motor operates normally.
Replace the motor if it operates abnormally.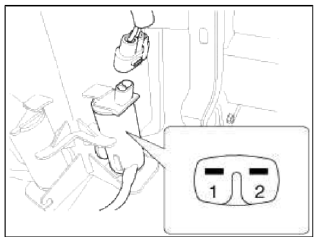 GND
Washer (+)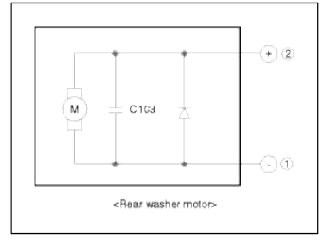 READ NEXT:
Components Location [ECM] - OEC (+) - - - - OEC (-) GND Reverse signal IGN (+) [Reverse Display] Camera power (-) OEC (+) Camera power (+) Video (+) Vide
SEE MORE:
The climate control air filter installed behind the glove box filters the dust or other pollutants that come into the vehicle from the outside through the heating and air conditioning system. Outside air Recirculated air Climate contr
* The actual shape and position of sensors may differ from the illustration. Supplemental Restraint System (SRS) control module/rollover sensor Front impact sensors Side pressure sensors (front door) Side impact sensors (B-pillar) Sid