Kia Sportage: Recommended engine coolant
When adding coolant, use only deionized water or soft water for your vehicle and never mix hard water in the coolant filled at the factory. An improper coolant mixture can result in serious malfunction or engine damage.
The engine in your vehicle has aluminum engine parts and must be protected by an ethylene-glycol with phosphate based coolant to prevent corrosion and freezing.
DO NOT USE alcohol or methanol coolant or mix them with the specified coolant.
Do not use a solution that contains more than 60% antifreeze or less than 35% antifreeze, which would reduce the effectiveness of the solution.
For mixture percentage, refer to the following table.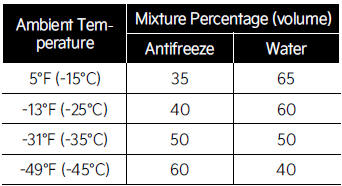 WARNING

Engine coolant reservoir cap
Do not remove the engine coolant reservoir cap when the engine and radiator are hot. Scalding hot coolant and steam may blow out under pressure causing serious injury.
Changing the coolant
Have the coolant replaced by an authorized Kia dealer.
CAUTION
Put a thick cloth around the radiator cap before refilling the coolant in order to prevent the coolant from overflowing into engine parts such as the alternator.
WARNING
Coolant
Do not use engine coolant or antifreeze in the washer fluid reservoir.
Radiator coolant can severely obscure visibility when sprayed on the windshield and may cause loss of vehicle control or damage the paint and body trim.
READ NEXT:
Checking the brake fluid level Check the fluid level in the reservoir periodically. The fluid level should be between MAX and MIN marks on the side of the reservoir. Before removing the reservoir cap and adding brake fluid, clean the ar
Checking the washer fluid level The reservoir is translucent so that you can check the level with a quick visual inspection. Check the fluid level in the washer fluid reservoir and add fluid if necessary. Plain water may be used if w
Replacing air cleaner filter Operation Pull up the lever (1) on the air cleaner cover and release the lock. Rotate the fixed lever on the filter and loosen the lock. Replace the air cleaner filter. Assemble in r
SEE MORE:
This vehicle is equipped with a variety of lights to illuminate the interior and exterior of the vehicle. CAUTION To prevent the battery from being discharged, do not leave the headlamp and interior light on for a prolonged time while the engi
Identification Number Locations Identification Number Description Vehicle Identification Number World Manufacturer Identifier (WMI) KNA: Passenger vehicle, MPV (Multipurpose Passenger Vehicle)/SUV (Sports Utility Vehic