Kia Sportage: Assembly
Measuring dimensions before welding
When assembling a new part, assemble it according to the body dimensions given in Section 31, and start welding after checking the gaps with nearby parts.
Caution when welding
The number of welding points should be determined based on the criteria below: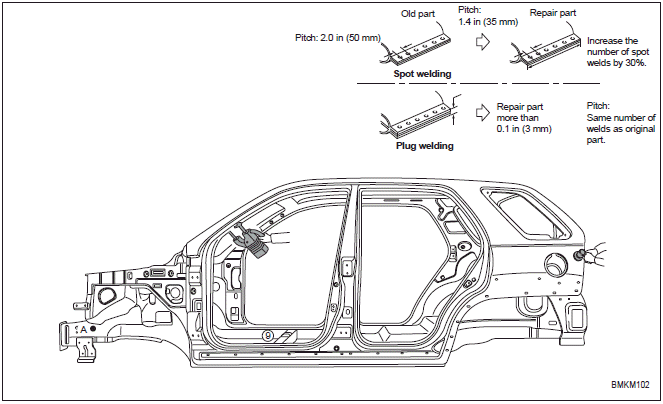 Caution when spot welding
The tip of the spot welding machine should be maintained to a minimum of 0.1 in (3 mm) because it greatly affects welding strength. When possible, spot welding should be done between the existing spot welded points.
Before and after spot welding, weld a test piece (test pin) of the same material as the body panel, and check the welding strength.

READ NEXT:
Body sealing Apply body sealer where necessary. Applying rustproof material Apply rustproofing material (wax, oil, etc.) behind welded area. Applying undercoat Apply undercoat on the body where necessary.
1. Place the lift blocks under the support points as shown in the illustration. 2. Raise the hoist a few inches and rock the vehicle to be sure it is firmly supported. 3. Raise the hoist to full height to inspect the lift points for secure su
SEE MORE:
Components and Components Location Component Location Description and Operation Description А/С pressure transducer convert the pressure value of high pressure line into voltage value after it is measured. By voltage value, the e
Low tire pressure telltale Low tire pressure position telltale When the TPMS warning indicators are appeared, one or more of your tires is significantly under-inflated. Low tire pressure If the telltale illuminates, immediately reduc