Kia Sportage: Daytime Running Light (DRL)
The Daytime Running Light (DRL) can make it easier for others to see the front of your vehicle during the day.
The DRL can be helpful in many different driving conditions, and it is especially helpful after dawn and before sunset.
The DRL will turn the dedicated lamp OFF when:
The headlamps are ON.
The vehicle is off.
The front fog light is on. (if equipped)
Engaging the parking brake.
Lighting control
The light switch has a headlamp and a position lamp position.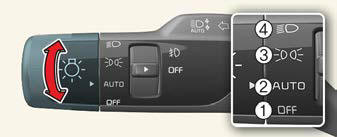 To operate the lights, turn the knob at the end of the control lever to one of the following positions:
OFF position
Auto light position
Position & Taillamp
Headlamp position
Position & Taillamp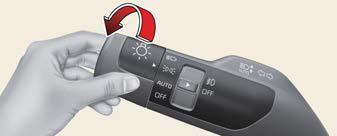 When the light switch is in the position lamp position, the front position lamp, taillamp, and the license plate lamp will turn ON.
Headlamp (Low Beam)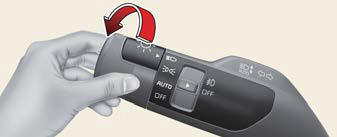 When the light switch is in the headlamp position, headlamp (low beam), tail, license light will turn ON.
NOTICE
The ignition switch or ENGINE START/ STOP button must be in the ON position to turn on the headlamps.
Auto light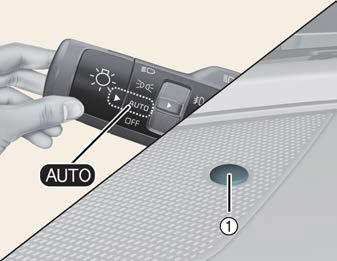 When the light switch is in the AUTO light position, the taillamps and headlamps will turn ON or OFF automatically depending on the amount of light outside the vehicle.
CAUTION
Never place anything over the sensor (1) located on the instrument panel as this will ensure better auto-light system control.
Don't clean the sensor using a window cleaner, the cleaner may leave a light film which could interfere with sensor operation.
If your vehicle has window tint or other types of metallic coating on the front windshield, the Auto light system may not work properly.
READ NEXT:
Operating high beam To turn on the high beam headlamp: Push the lever away from you. The lever will return to its original position. The high beam indicator will light when the headlamp high beams are switched on. WARNING Hi
Operating front fog light (if equipped) Fog lights are designed to provide improved visibility when visibility is poor due to fog, rain or snow, etc. The fog lights will turn on when the fog light switch (1) is turned to the on position aft
A: Vehicle Settings Lights High Beam Assist With the ENGINE START/STOP button in the ON position, select 'Lights ? High Beam Assist' from the Settings menu to turn on High Beam Assist and deselect to turn off the function
SEE MORE:
This display shows the accumulated trip distance, the average fuel efficiency, and the total driving time. Accumulated info Accumulated trip distance Average fuel efficiency Total driving time Accumulated information is calc
* The actual air bags in the vehicle may differ from the illustration. Driver's front air bag Passenger's front air bag Side air bag Curtain air bag Even in vehicles with air bags, you and your passengers must always wear the