Kia Sportage: Full LCD cluster


Conventional cluster (Type A)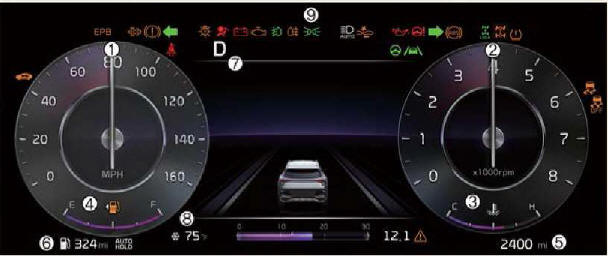 Full LCD cluster (Type B)
* The actual cluster in the vehicle may differ from the illustration.
Tachometer
Speedometer
Engine coolant temperature gauge
Fuel gauge
Odometer
Distance to empty
Transmission shift indicator
Outside temperature gauge
Warning and indicator lights
Full LCD cluster (if equipped)
The full LCD type cluster provides two themes.
Type A
Type A is the basic theme of the full LCD type cluster and provides different graphic styles depending on drive mode.

Type B (Dynamic)
Type B is set by the user and provides digital display. The background screen changes according to the weather and time.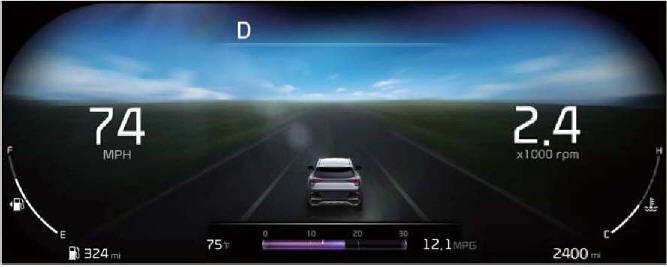 Weather: sunny, cloudy, rainy, or snowy (4 types)
Time: night, day, sunrise and sunset (4 types)
You can change the theme by selecting "Vehicle ? Cluster ? Select Theme" on the menu.
NOTICE
The information is displayed after getting information from a weather information provider via GPS. Depending on conditions of GPS reception, the information may be different from the current weather in your area.
If no information is received via GPS (e.g., not subscribed to Kia Connect service), the weather and time will be displayed as 'sunny' or 'night' on the cluster
READ NEXT:
The brightness of the instrument panel illumination is changed by pressing the illumination control button ("+" or "-") when the ignition switch or ENGINE START/STOP button is ON, or the tail lamps are turned on. WARNING
Type A / Type B The odometer Indicates the total distance that the vehicle has been driven and should be used to determine when periodic maintenance should be performed. Odometer range: 0 ~ 1,599,999 km or 999,999 miles. Distance to
The LCD display modes can be changed with the control buttons. LCD Display Control MODE button for changing modes MOVE switch for changing items OK: SELECT/RESET button for setting or resetting the selected item LCD dis
SEE MORE:
Description and Operation Description Purge Control Solenoid Valve (PCSV) is installed on the surge tank and controls the passage between the canister and the intake manifold. It is a solenoid valve and is open when the ECM grounds the
WARNING Do not start the vehicle with the accelerator pedal engaged. The vehicle can move and lead to an accident. Wait until the engine rpm is normal. The vehicle may suddenly move if the brake pedal is released when the r pm is high