Kia Sportage: Operating conditions
The ISG will operate under the following condition:
The driver's seatbelt is fastened.
The driver's door and hood are closed.
The brake vacuum pressure is adequate.
The battery sensor is activated and the battery is sufficiently charged.
Outside temperature is not too low or too high.
The vehicle is driven over a constant speed and stops.
The climate control system satisfies the conditions.
The vehicle is sufficiently warmed up.
The incline is gradual.
The steering wheel is turned less than 180 degrees and then the vehicle stops.
NOTICE
If the ISG system does not meet the operation condition, the ISG system is deactivated. If the ISG does not operate, the reason for the non-operation will appear on the LCD display (if equipped).
If the light or warning message comes on continuously, please check the operation condition.
ISG system will be activated with the vehicle equipped with Smart Cruise Control if the operating conditions are met.
Deactivating the ISG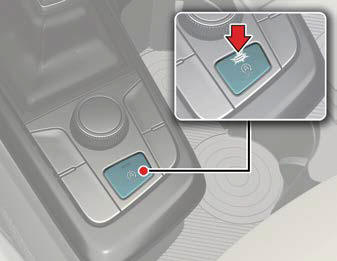 If you wish to deactivate the ISG, press the ISG OFF button. The light on the ISG OFF button will illuminate.
If you press the ISG OFF button again, the ISG will be activated and the light on the ISG OFF button will turn off.
ISG malfunction
The ISG may not operate when an ISG related sensor or system error occurs.
The following will happen:
The yellow AUTO STOP ( ) indicator on the instrument cluster will stay on.
When the engine is in Idle Stop mode, it's possible to restart the engine without the driver taking any action. Before leaving the vehicle or doing anything in the engine compartment, stop the engine by the ENGINE START/STOP button to the OFF position.
NOTICE
If the AGM battery is reconnected or replaced, ISG function will not operate immediately. If you want to use the ISG function, the battery sensor needs to be calibrated for approximately 4 hours with the ignition off. After calibration, turn the engine on and off 2 or 3 times.
READ NEXT:
Early Engine Restart If the engine was stopped automatically by ISG, Early Engine Restart can automatically restart the engine from ISG without driver action when the vehicle ahead pulls away and the front view camera detects the preceding vehic
Drive mode The drive mode may be selected according to the driver's preference or road condition. Type A Type B Type C The Drive mode is activated by turning the knob. NOTICE If there is a problem with the instrument cluste
Forward Collision-Avoidance Assist is designed to help detect and monitor the vehicle ahead or help detect a pedestrian or cyclist in the roadway and warn the driver that a collision is imminent with a warning message and an audible warning
SEE MORE:
Description and Operation Description Intake Air Temperature Sensor (IATS) is included inside Manifold Absolute Pressure Sensor and detects the intake air temperature. To calculate precise air quantity, collection of the air temperature is
Adjustment TCM Learning When shift shock is occurred or parts related with the transaxle are replaced. TCM learning should be performed. In the following case, TCM learning is required. Transaxle assembly replacement TCM replace