Kia Sportage: Rail Pressure Sensor (RPS)
Description and Operation
Description
Rail Pressure Sensor (RPS) is installed on the delivery pipe and measures the instantaneous fuel pressure in the delivery pipe. The sensing element (Semiconductor element) built in the sensor converts the pressure to voltage signal. By using this signal, the ECM can control correct injection amount and timing and adjusts the fuel pressure with the fuel pressure regulator valve if the target pressure and the actual pressure calculated by the RPS output signal are different.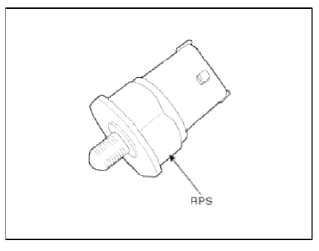 Specifications
Specifications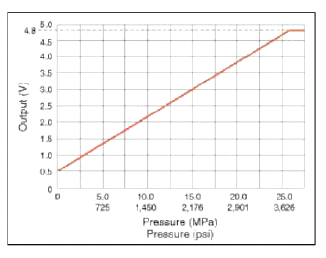 Troubleshooting
Signal Waveform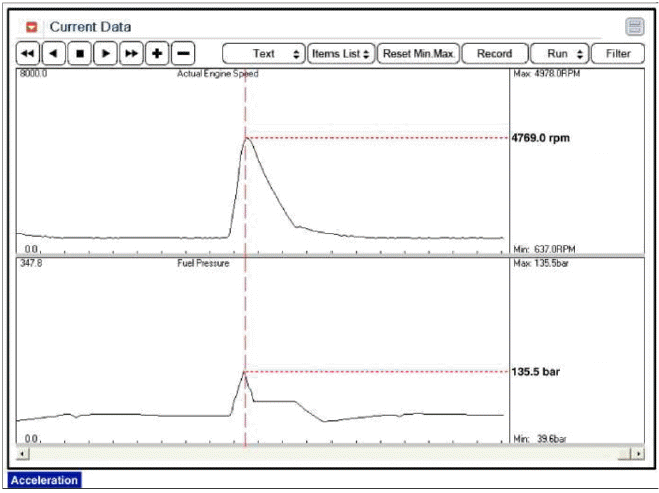 Schematic Diagrams
Circuit Diagram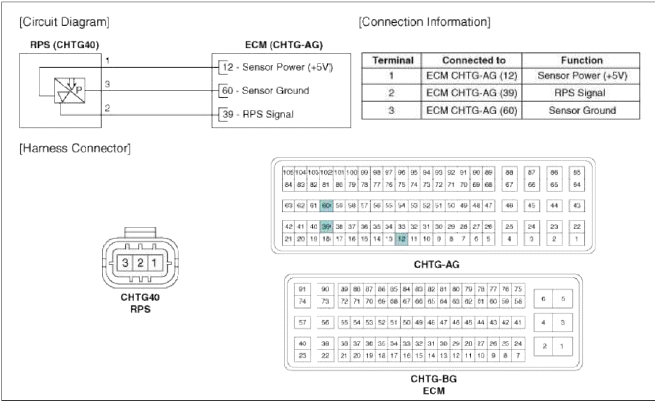 Repair procedures
Inspection
1. Connect the GDS on the Data Link Connector (DLC).
2. Measure the output voltage of the RPS at idle and various engine speed.

Removal
1. Turn the ignition switch OFF and disconnect the battery negative (-) cable.
2. Release the residual pressure in fuel line (Refer to "Release Residual Pressure in Fuel Line" in this group).
CAUTION
When removing the fuel pump relay, a Diagnostic Trouble Code (DTC) may occur. Delete the code with the GDS after completion of "Release Residual Pressure in Fuel Line" work.
3. Remove the intake manifold (Refer to "Intake And Exhaust System" in EM group).
4. Disconnect the rail pressure sensor connector (A), and then remove the sensor (B) from the delivery pipe.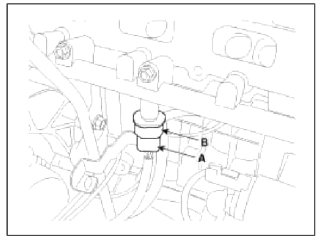 Installation
CAUTION
Install the component with the specified torques.
Note that internal damage may occur when the component is dropped. If the component has been dropped, inspect before installing.
1. Installation is reverse of removal.
Rail Pressure Sensor Installation: 18.0 ~ 22.0 N.m (1.8 ~ 2.2 kgf.m, 13.3 ~ 16.2 lb-ft)
READ NEXT:
Description and Operation Description Continuous Variable Valve Timing (CVVT) system advances or retards the valve tuning of the intake and exhaust valve in accordance with the ECM control signal which is calculated by the engine speed
Description and Operation Description Accelerator Position Sensor (APS) is installed on the accelerator pedal module and detects the rotation angle of the accelerator pedal. The APS is one of the most important sensors in engine control sys
SEE MORE:
Components and Components Location Components Front pillar trim Center pillar upper trim Center pillar lower trim Luggage side trim Cowl side trim Front door scuff trim Rear door scuff trim Front step trim Rear step trim
Description Automatic transaxle system relies on various measurement data to determine the current control status and extrapolate the necessary compensation values. These values are used to control the actuators and achieve the desired c