Kia Sportage: Thermostat
Repair procedures
Removal and Installation
NOTE
Disassembly of the thermostat would have an adverse effect, causing a lowering of cooling efficiency. Do not remove the thermostat, even if the engine tends to overheat.
1. Drain engine coolant so its level is below thermostat.
2. Disconnect the radiator lower hose (A).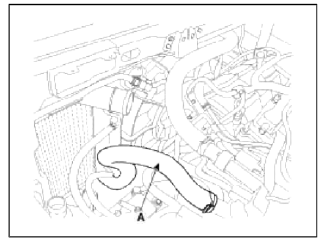 3. Remove water inlet fitting (C), gasket (B) and thermostat (A).
Tightening torque: 7.8 ~ 11.8N.m (0.8 ~ 1.2kgf.m, 5.8 ~ 8.7lb-ft)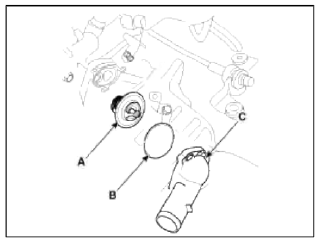 4. Installation is reverse order of removal.
CAUTION
Install the thermostat with the jiggle valve upward.
When assembling the thermostat, place the thermostat on the housing with a protrusion of thermostat matching with a groove of the housing and install the gasket and inlet fitting. Be careful the thermostat doesn't get out of the groove on the housing.
5. Fill the engine coolant.
6. Start the engine and check for leaks.
7. Recheck the coolant level
Inspection
1. Immerse the thermostat in water and gradually heat the water.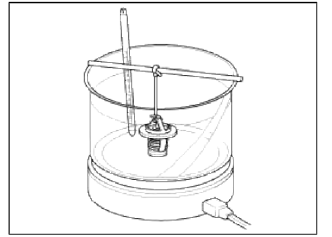 2. Check the valve opening temperature.
Valve opening temperature: 82 +- 1.5ºC (179.6 +- 2.7ºF)
Full opening temperature: 95ºC (203ºF)
If the valve opening temperature is not as specified, replace the thermostat.
3. Check the valve lift.
Valve lift: 8mm (0.3in.) or more at 95ºC (203ºF)
If the valve lift is not as specified, replace the thermostat.
Troubleshooting
Troubleshooting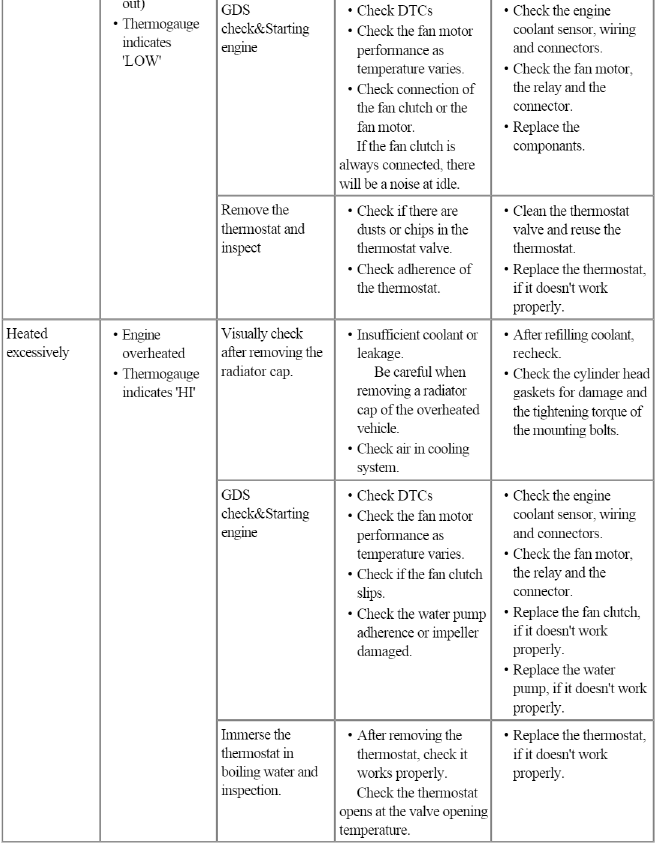 READ NEXT:
Repair procedures Oil And Filter Replacement CAUTION Prolonged and repeated contact with mineral oil will result in the removal of natural fats from the skin, leading to dryness, irritation and dermatitis. In addition, used engine oil cont
Components and Components Location Components Balance shaft & oil pump assembly Balance shaft chain tensioner Balance shaft chain Balance shaft chain sprocket Balance shaft chain guide Balance shaft chain tensioner arm
SEE MORE:
NOTICE If you install an aftermarket HID headlamp, your vehicle's audio and electronic device may malfunction. * If your vehicle is equipped with infotainment system, refer to a separately supplied manual for detailed information. Sharkfin
Air bags may not deploy in certain low-speed collisions where the air bag would not add any benefit beyond the protection already offered by the seat belts. Front air bags are not designed to inflate in rear collisions, because occu