Kia Sportage: DBC Switch
Description and Operation
Description
The DBC function is the acronym word of Downhill Brake Control function. When a vehicle goes down the hill, just pushing the DBC switch enables the car to keep its vehicle's speed at a constant value without operating the brake pedal. The DBC function is operated when the vehicle is on the decline and its velocity is under the predetermined speed.
Repair procedures
Inspection
1. Turn ignition switch OFF and disconnect the negative (-) battery cable.
2. Remove the crash pad side switch assembly.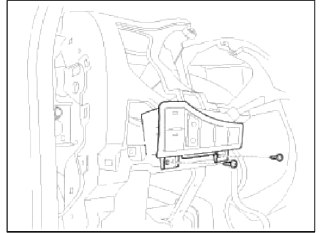 3. Check the continuity between the switch terminals as the DBC switch is engaged.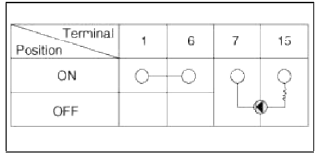 Steering Angle Sensor
Description and Operation
Description
The Steering Angle Sensor (SAS) is installed in MDPS (Motor Driven Power Steering) and it sends messages to HECU though CAN communication line.
The SAS is used to determine turning direction and speed of the steering wheel.
The HECU uses the signals from the SAS when performing ESC-related calculations.
Components (Steering Angle Sensor, Torque Sensor, Failsafe relay, etc.) of the EPS system are located inside the steering column & EPS unit assembly and the steering column & EPS runt assembly must not be disassemble to inspect or replace them. (Refer to "ST (Steering system) Gr.")
READ NEXT:
Specifications Specification Tightening torque CAUTION Replace self-locking nuts with new ones after removal brake. Lubricants Special Service Tools Special Service Tools Troubleshooting Troubleshooting
Front Hub / Knuckle / Tone Wheel Components and Components Location Components Brake disc screw Brake disc Hub Hub bolt Dust cover Knuckle Wheel bearing Snap ring Repair procedures Replacement 1. Loosen the wheel nut
SEE MORE:
Description and Operation Operation The EBD system (Electronic Brake force Distribution) as a sub-system of the ABS system is to control the maximum braking effectiveness by the rear wheels. It further utilizes the efficiency of highly deve
When adding coolant, use only deionized water or soft water for your vehicle and never mix hard water in the coolant filled at the factory. An improper coolant mixture can result in serious malfunction or engine damage. The engine in y