Kia Sportage: Disassembly
Measuring dimensions before beginning
Measure the dimensions of the damaged area according to the body dimension drawings before disassembling and repairing. Adjust dimensions with body frame adjuster if deformed.
Selecting cutting area
Select a cutting area that is easily accessible and that is prone to the least amount of distortion when welding.
Select an area that would allow the new part to overlap repair area by 1.2~2.0 in (30~50 mm).
Protecting body from damage
Secure the body with clamps and jacks to prevent damage to the body when working on it.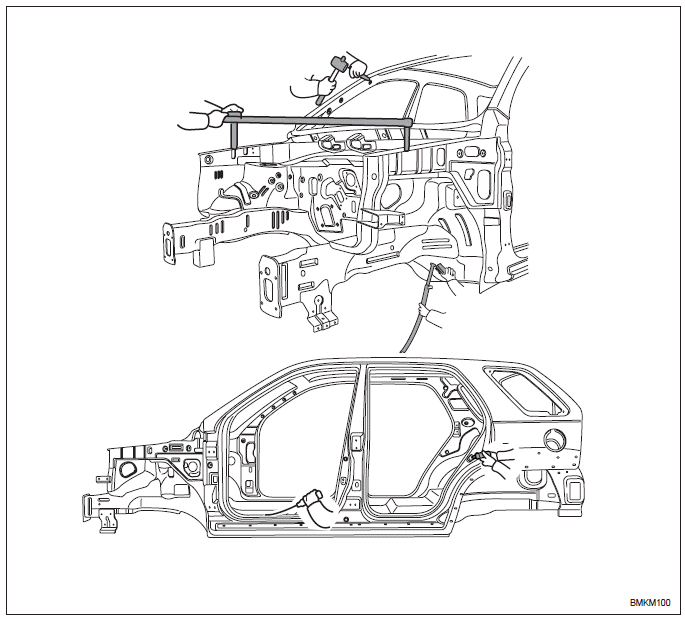 Disassembling related parts
Use caution when removing body molding and trim from the area to be worked. Apply masking tape where needed to prevent damage to the part being removed or to the vehicle body. Before starting repairs, check if pipes, hoses or electrical components are present near damaged area.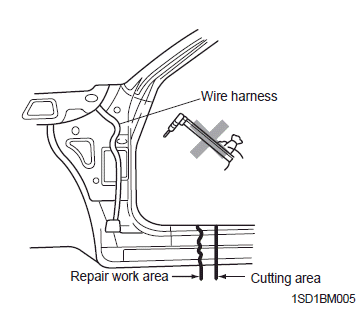 READ NEXT:
Applying spot sealer Remove paint from the surface of new parts and body to be spot welded, and apply spot sealer for rustproofing. Selecting a welding method If the thickness of the area to be welded with the panels overlapped is greater than
Measuring dimensions before welding When assembling a new part, assemble it according to the body dimensions given in Section 31, and start welding after checking the gaps with nearby parts. Caution when welding The number of welding points sho
Body sealing Apply body sealer where necessary. Applying rustproof material Apply rustproofing material (wax, oil, etc.) behind welded area. Applying undercoat Apply undercoat on the body where necessary.
SEE MORE:
Repair procedures Inspection Front Washer Motor 1. With the washer motor connected to the reservoir tank, fill the reservoir tank with washer fluid. NOTE Before filling the reservoir tank with water, check the filter for foreign materi
Power Window Timer Control 1. After IGN1 is On. Power Window can operate and after IGN1 Off it is possible to operate the Power window, for "PwdwTime"(30 sec +-3 sec). 2. During counting the PwdwTime"(30 sec +-3 sec), if Driver