Kia Sportage: Welding procedures
Observe the following tips when welding.
1. Wear appropriate eye protection.
2. Carefully follow the manufacturers operating instructions for the welding machine you are using.
3. Do not weld, smoke or allow open flames around volatile chemicals, cleaners or solvents or in any area where they have just been used.
Body frame straightener
When using a frame straightener, do not enter the area where the body is being straightened by the chain.
Electrical procedures
1. Disconnect the negative battery terminal.
2. Do not pull on wires when disconnecting electrical connectors. Be careful to hold the connector itself when disconnecting it.
3. Insert the connector until it "clicks" when connecting the connector.
4. Handle all electrical components with care.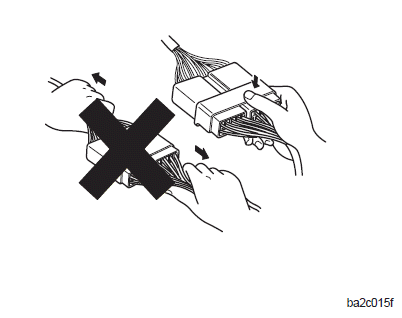 READ NEXT:
Measuring dimensions before beginning Measure the dimensions of the damaged area according to the body dimension drawings before disassembling and repairing. Adjust dimensions with body frame adjuster if deformed. Selecting cutting area Select
Applying spot sealer Remove paint from the surface of new parts and body to be spot welded, and apply spot sealer for rustproofing. Selecting a welding method If the thickness of the area to be welded with the panels overlapped is greater than
SEE MORE:
Inspection Self Diagnosis With Scan Tool Smart key system defects can be quickly diagnosed with the GDS. GDS operates actuator quickly to monitor, input/output value and self diagnosis. The following three features will be major problem i
Basic function The basic functions of Driver Attention Warning include: Attention Level Consider taking a break Attention level Function off Driver Attention Warning System Off Standby/Disabled Driver Attention Warnin