Kia Sportage: Disassembling spot welded area
Most body parts are spot welded. In order to disassemble the damaged area, it is best to disassemble the spot welded area from the body frame using a spot cutter or candle type edge drill bit. Do not use a drill bit with a tapered edge. Center punch middle of spot weld to insure the entire spot weld will be removed.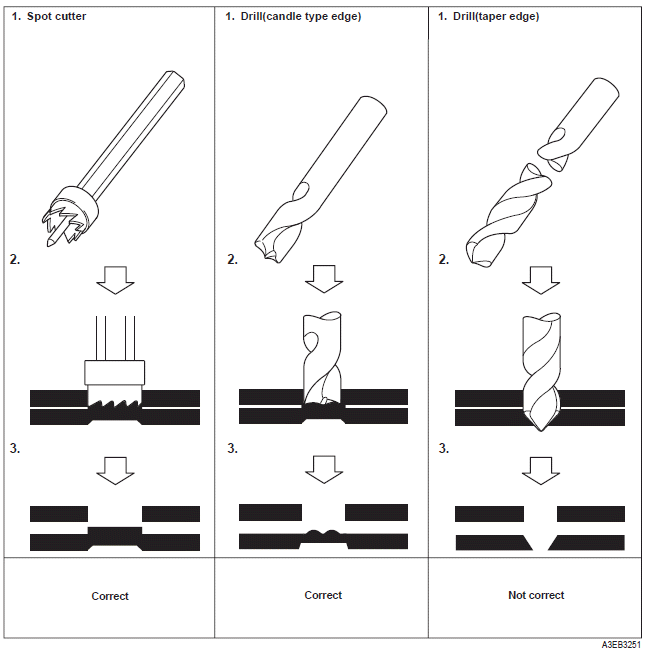 Assembling a new body frame
The efficiency of the transmission and load distribution are determined by many complicated factors such as thickness of plate, shape and size of a cross section, damage of parts, variance of joints, welding method, and/or welding locations. Therefore, a new part should be fitted to the body frame using the proper procedures to avoid reducing the strength of the body.
Determining a welding method
It is extremely important that appropriate welding methods, which don't reduce the original strength and durability of the body be used when making repairs, Try to use either spot welding or carbon arc (plug) welding, Do not braze any body components other than the ones brazed at the factory. Do not use an oxy-acetylene torch for welding.

READ NEXT:
1. Commercial spot welding machines do not perform as well as the machines used in the manufacturing process. When spot welding, increase the number of spot welds by 30% (1.3 times the original number of welds). 2. When spot welding, weld in t
Disassembly 1. Body measurement Before disassembling, measure the damaged area according to the dimensions supplied in Body Dimension, Section 31. If deformation is present, use a frame straightener to adjust. When disassembling a panel,
Preparation for assembly 1. Spot weld finish Use a disk grinder or similar tool to finish spot weld mark. Do not grind more than is necessary to smooth surface. 2. Panel preparation Repair any bent or uneven areas with a hammer to improve th
SEE MORE:
Smart Cruise Control is designed to detect the vehicle ahead and help maintain the desired speed and minimum distance with the vehicle ahead. Overtaking Acceleration Assist While Smart Cruise Control is operating, if the function judges that th
Engine Mounting Components and Components Location Components Transaxle mounting bracket Roll rod bracket Sub frame Engine mounting bracket Engine mounting support bracket Engine And Transaxle Assembly Repair procedures